Welcome to Hidden Growth Champions - real innovators, real conversations, real lessons about growth in the midst of uncertainty. We explore why growth truly matters, as we learn to navigate new and unfamiliar terrains, what forms it can take in innovative organisations (e.g. new markets, acceleration, closing the innovation gap or transformation and renewal), and how 'growth champions', situated not just in developed tech centres but across emerging markets, go about discovering, preparing for and powering growth. Every second week, we meet one of these growth champions for a conversation about what growth means to them – not about dry theory, complex methodologies or formulas promising a 'sure way' to navigate our way beyond the crisis. Rather, real innovators, real conversations, real lessons.
Episodes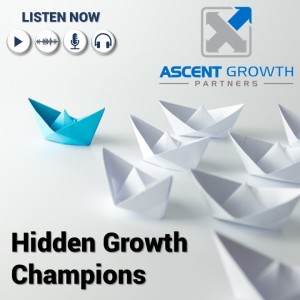 Tuesday Sep 20, 2022
Tuesday Sep 20, 2022
In this podcast episode, we speak with Faheem Moosa, strategic advisor, about the importance of striving for meaningful outcomes with clients and what a commitment to client success can realise. We speak about a systematic approach to marketing and sales, beyond referrals, for professional services firms in this context. An insightful conversation for professional services business owners and the teams driving them towards market success.