Welcome to Hidden Growth Champions - real innovators, real conversations, real lessons about growth in the midst of uncertainty. We explore why growth truly matters, as we learn to navigate new and unfamiliar terrains, what forms it can take in innovative organisations (e.g. new markets, acceleration, closing the innovation gap or transformation and renewal), and how 'growth champions', situated not just in developed tech centres but across emerging markets, go about discovering, preparing for and powering growth. Every second week, we meet one of these growth champions for a conversation about what growth means to them – not about dry theory, complex methodologies or formulas promising a 'sure way' to navigate our way beyond the crisis. Rather, real innovators, real conversations, real lessons.
Episodes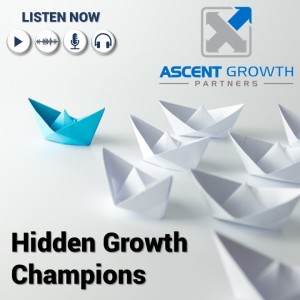 Monday Aug 17, 2020
Monday Aug 17, 2020
In S1: E3 of Hidden Growth Champions we meet Dr Adrian Saville, Founder and Chief Executive of Cannon Asset Managers. Adrian joined host Saar for a fascinating conversation about business and leadership in the asset management world - definitely an episode not to be missed! 
Enjoy! 
As we learn to navigate in crisis and emerge into a future that few have predicted or prepared for, our ability to understand the changes we are experiencing, focus on the critical, underlying issues and adapt to new realities, is crucial. Our diagnostics provide the ability to understand and focus, within key areas of your organisation. 
Based on recognised research in strategy, change and strategic portfolio management, each diagnostic self-assessments should take you about 10 minutes to complete. You'll be able to view your score, benchmark your results against selected organisations from around the world and decide where to focus next, all in a secure and confidential setting.