Welcome to Hidden Growth Champions - real innovators, real conversations, real lessons about growth in the midst of uncertainty. We explore why growth truly matters, as we learn to navigate new and unfamiliar terrains, what forms it can take in innovative organisations (e.g. new markets, acceleration, closing the innovation gap or transformation and renewal), and how 'growth champions', situated not just in developed tech centres but across emerging markets, go about discovering, preparing for and powering growth. Every second week, we meet one of these growth champions for a conversation about what growth means to them – not about dry theory, complex methodologies or formulas promising a 'sure way' to navigate our way beyond the crisis. Rather, real innovators, real conversations, real lessons.
Episodes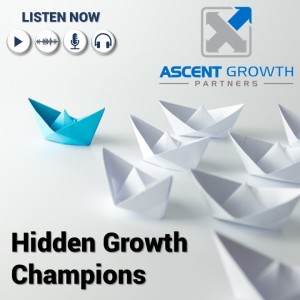 Monday Nov 09, 2020
Monday Nov 09, 2020
In S1:E9 Peter Armitage joins host Saar in our virtual Hidden Growth Champions studio. As CEO at Anchor Capital, Peter has 23 years' experience in global financial markets. Peter has also been rated the top investment analyst in the annual Financial Mail rankings a record 21 times. 
Join Peter and Saar for a deep dive into the world of financial markets in very unpredictable times.