Welcome to Hidden Growth Champions - real innovators, real conversations, real lessons about growth in the midst of uncertainty. We explore why growth truly matters, as we learn to navigate new and unfamiliar terrains, what forms it can take in innovative organisations (e.g. new markets, acceleration, closing the innovation gap or transformation and renewal), and how 'growth champions', situated not just in developed tech centres but across emerging markets, go about discovering, preparing for and powering growth. Every second week, we meet one of these growth champions for a conversation about what growth means to them – not about dry theory, complex methodologies or formulas promising a 'sure way' to navigate our way beyond the crisis. Rather, real innovators, real conversations, real lessons.
Episodes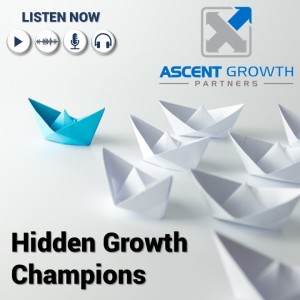 Monday Feb 01, 2021
Monday Feb 01, 2021
Today we kick off season 2: E1 of Hidden Growth Champions. This time, we go beyond the story to discover the management innovations which some of our admired organisations employ.
In our first episode of the season, you can listen to our conversation with Nombasa Tsengwa, MD: Minerals at Exxaro Resources, a true South African success story, which has been on the transition from Coal to a sustainable, future-fit organisation. She speaks about what inspired her to build a minerals business portfolio, where innovations in the Mining & Resources sector come from and how to build the most critical capabilities, to thrive in the future. Enjoy!